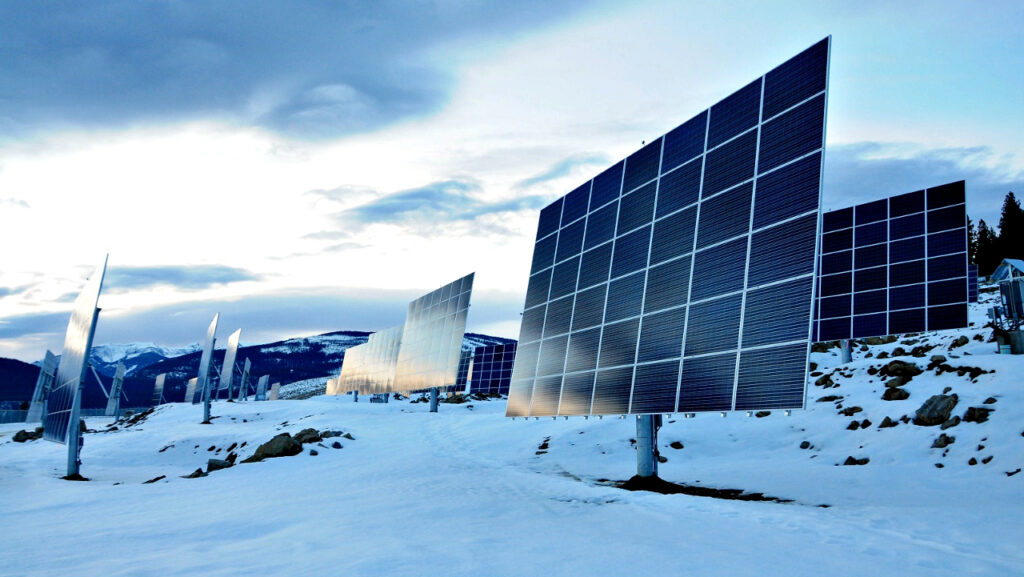 Kimberley B.C., September 2st, 2015.  The city of Kimberley Sun Mine Project relies on the latest photovoltaic technology: Solar tracking systems designed by DEGER, and fabricated in Germany and Canada, align each array automatically with the point in the sky that provides the greatest energy. Thus, they achieve the highest yields worldwide.
Photovoltaics are one of the world's most important renewable energy sources and an excellent way to add value for operators of closed or working mines around the world.  Using solar tracking systems, the areas above the mines can be utilized to produce solar energy. Due to its easy-to-implement design, tracking systems based on DEGER´s patented MLD* principles achieve optimal yields even in difficult terrain conditions.
Sun Mine Project in Kimberley B.C., is a perfect example for producing solar energy on the site of a closed mine. 96 D100 DEGERtrackers have been installed, each equipped with 42 solar modules and a total capacity of 1.048 megawatt DC – the equivalent power required for approximately 500 homes.
The planning phase for the SunMine Project took almost one year.  DEGER supported the Canadian project development team in calculating the optimal configuration and the location of the trackers under these difficult terrain conditions. All involved have also participated in the yield calculations together.
According to Kimberley Mayor Don McCormick, "SunMine is a great example of the resiliency of our community.  We are thriving and pursuing new and innovative directions. Although SunMine is the largest solar facility in BC, it is relatively small.  As the SunMine proves its potential, the City of Kimberley is looking to expand it and have already had several inquiries from prospective partners.
"SunMine is a symbol of Kimberley's commitment to the environment.  When Kimberley's mineral resources were depleted, we took advantage of our solar potential and developed a new resource which is renewable. Kimberley receives the most sunshine in B.C. (over 300 days per year), and the community-owned SunMine is well suited to capitalize on these clear and sunny conditions.
The D100 is the latest tracking technology from world market leader DEGER. The system works with an improved elevation angle of 10° to 90°, DEGER's patented MLD sensor, and a redesigned energy converter. These improvements lead the way in a new generation of trackers that generate greater yields with even less sunlight – for example, at sunset and sundown. The design geometry, which is unique to the market, increases the longevity of the new tracking systems. Field tests of the renowned German Materialprüfungsanstalt (MPA) at Stuttgart University have confirmed the high resilience of the systems. The new DEGERtracker D100 is designed for up to 70.6 square meters of module surface.
Adam Glapiak, Area Sales Manager North America at DEGER: "We are very pleased to enjoy the City of Kimberley's confidence as their technology supplier – for this project as well as for others. Currently we are holding substantial talks with numerous operators of active and closed mines worldwide. The interest in our solutions there is great and encouraging. Together with all involved project development shareholders as a recognized and competent partner we see a highly promising market opening which offers very good medium and long term perspectives. We are already looking forward to getting the first reliable results from the Sun Mine Project. And we are confident that case studies of this project will prove the superiority of DEGER's MLD technology for application scenarios like this."
* MLD = Maximum Light Detection