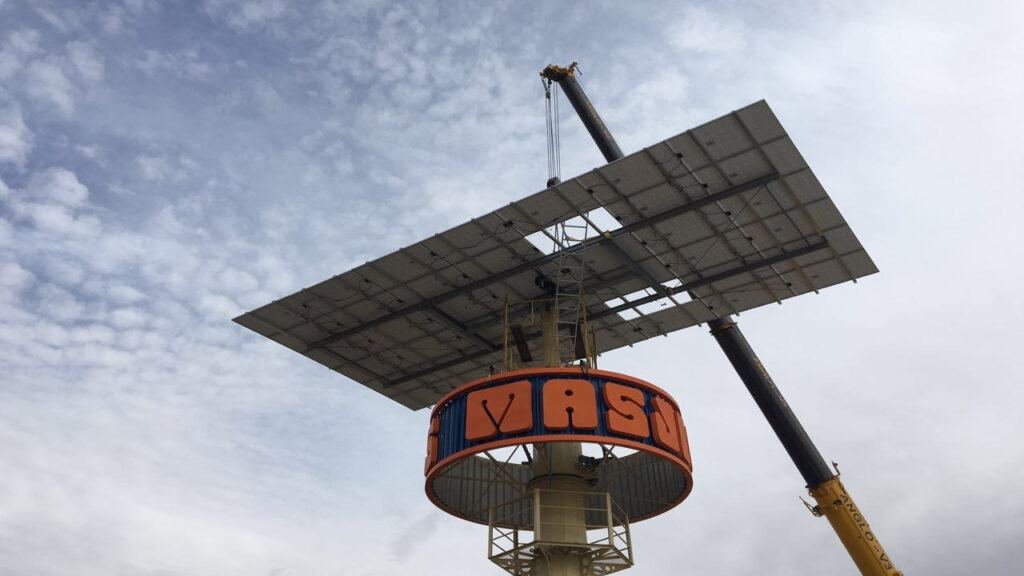 Our colleagues Peter Scherer and Tony Visser represented DEGER at two fairs in South Africa and not only impressed new customers with the advantages using DEGERtracker technology but also gained deeper insight in local market requirements.
At the 16th African Utility Week (AUW) in Cape Town, our International Sales Manager Peter Scherer exhibited at the German Pavilion and presented a lecture about the advantages of our patented Maximum Light Detection or MLD technology. The AUW is not just an exhibition but also a networking platform and conference for the entire industry of renewable energy in Africa. With over 250 exhibitors and more than 1200 delegates the AUW is one of the most important trade shows in South Africa. The alternative energy generating technologies in South Africa are increasingly important and the climatic conditions are perfect for the development of solar power with an intelligent tracking system from DEGER.
At the same time the Nampo – the largest agricultural fair in Africa was being held as well. Here you could find Tony Visser – Branch Manager of DEGER South Africa, together with our customer Willie Jones. In the entrance area of the Nampo the 10 meter tall DEGERtracker got a lot all of attention and delivered top yield in the four days. With an installed capacity of 11.76 kW the DEGERtracker produced a yield of 82 kWh per day. Due to the great interest, the DEGERtracker D100 will not be dismantled and will remain on the fairgrounds of Nampo. The expected annual specific yield of 3,000 kWh/kWp is directly fed into the South African grid and makes a contribution to development of renewable energy in South Africa.